Is Sonora Pass Open?
Highway 108:
September 29, 2014, Highway 108 is OPEN over the pass.
With changing conditions, it is best to check with Caltrans for the most up to date situation on the roads. Call 1-800.427.7623 or visit the CalTrans website listed below. The best source for up-to-date information is CalTrans – Department of Transportation – Road Conditions. (Scroll down to SR 108.)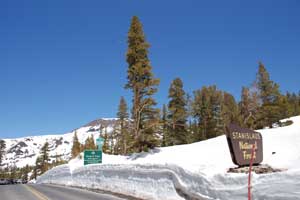 Sonora Pass usually remains open until the first heavy snowfall of the winter arrives. Often that occurs sometime in early November, but snow can temporarily close the pass at any time, as it did late on September 26th (2014) for 3 days. 
Editorial comment:  Russ and I were at Clark Fork on September 26th, visiting friends who were camping.  It was cold.  It started to rain.  Lot of rain on our drive back to Mi Wuk. When we arrived home we heard on the news that Sonora Pass had closed.  No surprise!

Traditionally the pass re-opens in mid-May, but once again, even after it opens, late season storms can cause it to close again. See the past opening dates shown below: Historical Conditions.
My source:  http://www.sonorapassvacations.com/winter/current_conditions.html
Leave a comment